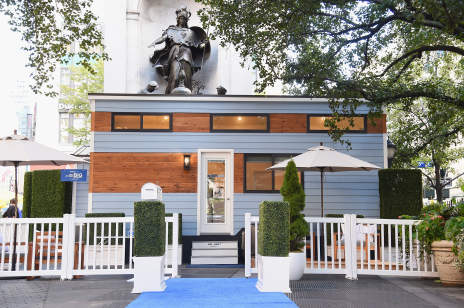 Tiny houses and the culture surrounding it have been taking over the mainstream. Tiny house websites, blogs, magazines, TV shows and online videos have shared storage tips and tricks to save space, looking for interesting vacation areas, or renting one out on your property (a'la Airbnb). This past Thursday, comedian Kevin Hart, with help from Booking.com, revealed his customized tiny house in Herald Square Park of New York City.
Hart's 268-square-foot home (8′ x 24′) comes with a full-sized bed in the upper loft, a living room space, a kitchen with the works and a full bathroom. The comedian says the tiny house is a reflection of his personality, describing it as having "my level of comfort, my level of style, and I guess you could say my level of flash." The mattress in the loft and the hardwood floors are some of Hart's personal items included in the tiny home's interior, while other Hart-centric touches include a number of framed photos of the comedian himself, a collection of his stand-up shows and films, wall sockets signed with his initials, and copies of his new autobiography, I Can't Make This Up: Life Lessons.
Hart's tiny home will soon move from NYC to his hometown of Elizabethtown, Pennsylvania, where it'll be located at tiny home community, Tiny Estates. The tiny house will be available for rent at $175 a night from its listing on Booking.com.