It's that time again where there will be a brand new crop of incoming freshmen who are anticipating a new chapter in their lives as they prepare for architecture school in the fall. I can tell you from experience that entering the environment of a architecture studio classroom for the very first time is both exciting and scary, as new challenges lie ahead, however some self-doubt and nervousness can rear its ugly head. While it's true that most architectural skill are better developed while under the tutelage of experienced professors and professionals, there are some easier tasks that incoming architecture students can take part in to make the transition into their first day in a studio environment much simpler. Fortunately, ArchDaily has you covered with five (5) ways incoming architecture students can get themselves mentally prepared for the fall.
1) Measure The World Around You
The simple act of measuring the dimensions of familiar spaces (rooms, hallways, closets and bathrooms of varied sizes) and common building elements (doors, windows, fixtures and furniture) reveals useful patterns, develops crucial design skills — i.e. spatial awareness and sense of scale — and help you be able to understand how to accurately visualize appropriate spatial dimensions.
2) Get To Know Your Local Supply Store
Let me tell you this right from the jump: YOU WILL BE BUYING A LOT OF SUPPLIES DURING YOUR TIME IN ARCHITECTURE SCHOOL. You'll be frequently building models on a constant basis, so knowing and making mental notes about the available materials, model building tools, sheet goods, and drawing media from your local brick-and-mortar art supply store is crucial (including their hours of operation), ESPECIALLY when you are in a last-minute need for extra materials. It also doesn't hurt to find some building material as hardware stores, home improvement stores and some thrift stores,as well.
3) Start a Sketch Book
Just start drawing. Even if you've never drawn that much before, just start drawing. Keep on drawing. This will help you develop the fundamental architectural skills of being comfortable with pencils and paper to capture and express visual information through drawing. Try drawing a few quick scenes and visuals every day, and don't be concerned about how "good" or "bad" the results are; the intimidation will ease away and you'll be making production drawings for our studio projects in no time.
4) Read Books by Architects
This is a must if you're about to enter architecture school without any (or very little) experience in the world of architecture. A great, low-stress method to introduce yourself to the building/design world is by simply reading books written by architects, as you'll be become familiar with the language and vocabulary design professionals use that describe architecture. The world is pretty much your oyster, as these resources include your local library, magazines, and multiple online resources.
5) Go Somewhere Inspiring
Sure, studying and reading books and documentation about architecture in the forms of drawings, pictures, scale models and other means are a great resource of learning about the field and practice, but there is simply NO SUBSTITUTION for experiencing architecture first-hand and in-person. For me, the semester I spent interning and living in Chicago in 2006 opened my eyes to the vast variety of notable architectural projects that I finally got to experience in-person, and it affected my mood very positively. But if you can't visit the popular Philip Johnson, Frank Gehry or Frank Lloyd Wright building, you can very likely find a local building that YOU find interesting and plan a trip there to fully absorb being in and inhabiting that space.
Now, GET OUT THERE AND GO FORWARD (also be careful with those X-acto Blades…)!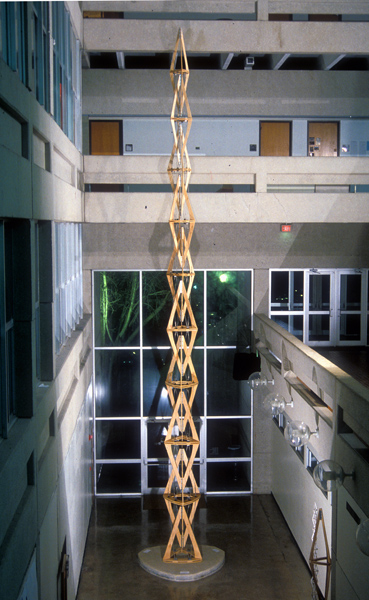 [Thanks ArchDaily]