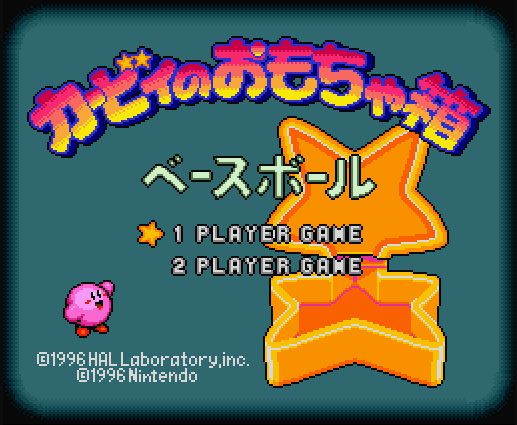 Howdy Maiya; you should enjoy this…
Four lost Kirby minigames from the Super Famicom's Satellaview peripheral (we'll get to that in a bit…) have made their way into the hands of gaming preservationists after a surprise auction and some help from fans of the franchise.  Here's the story: Kirby no Omocha Hako (「カービィのおもちゃ箱, aka "Kirby's Toy Box") was a Satellaview title consisting of 10 mini-games. The Japan-exclusive device let players download games via a satellite connection, and while many games were made available for the Satellaview, most have been lost after the service discontinued. However, when some ARE found, they can take quite a while to get them working and playable again.
Matthew Callis and a group of preservationists (who often seek rare games, finished or prototype builds) found four of the missing Kirby Sattelaview mini-games — which, like any Sattelaview game, are VERY DIFFICULT TO ACQUIRE since the games were temporarily written into system memory and were replaced when a new game was downloaded — in the hands of a buyer in Japan's Ishikawa Prefecture. The games for sale were:
"Circular Ball" / "ぐるぐるボール"
"Cannon Ball" / "キャノンボール"
"Pachinko" / "パチンコ"
"Arrange Ball" / "アレンジボール"
Even though the group didn't have the money, they couldn't pass up this opportunity to save this bit of gaming history.  Soon afterward, fellow preservationist Frank Cifaldi went on social media to see if eager gamers and Kirby fans could help the preservationist group win the raffle. In the end, the group managed to win ALL FOUR AUCTIONS for the total cost of 85,500¥, or $813.08 USD. Their goal is to ensure that these games can become playable via emulators.
Cifaldi told Kotaku's Heather Alexandra:
"It's basically impossible to preserve all of these games. The only way they exist on their temporary cartridges is if they happen to be the last game someone played. We do stuff like this [getting games to work via emulation] all the time, but preserving a slight ROM variation for the European version of a common game isn't as sexy as a Kirby game that was genuinely considered lost."