If you take a good look at that little strip of green on top of that building, you'll see that it's actually a forest, and it's floating 1000 feet above Taiwan's skyline.  This forest is actually sitting on a blue glow of anti-gravity beams (NAH, I'm just kidding). Ladies and gentlemen, I give you the Taiwan Tower, a banyan tree-like structure designed by Tokyo-based architect Sou Fujimoto, a giant steel superstructure that may become the most surreal piece of engineering ever seen. It was selected as the first prize winner for the Taiwan Tower International Competition in 2011, and it reflects on Fujimoto's philosophy of Primitive Future, as the "21st Century Oasis" that aspires to be a model of green architecture for the future generations of buildings.
These renderings give you an idea of how innovative, strange and wonderful this thing will be.The tower strives to embody the 21st Century spirit of Taiwan, similar to how the Eiffel Tower embodied the 20th Century spirit of Paris. The tower will stand above the city at the southern tip of Taichung Gateway Park, which is part of the former Taichung (Shuinan) Airport site.
The project is comprised of two main elements – the grand structural steel frame and the roof-top garden. Inspired by the Taiwanese Banyan tree, the structural steel frame creates a shaded, semi-outdoor space as it encases the site. The steel frame consist of perimeter columns, inner columns, intermediate columns, spiral beams and roof beams; all of them circular at 800 millimeters in diameter and hollow. Simultaneously, the roof-top garden floats 300 meters above, representing the richness of beauty and nature of Formosa (Divine Island).  The Taiwan Tower would also consist of renewable energy systems and passive design techniques such as the aforementioned green roof, rainwater harvesting, solar hot water panels, wind turbine, photovoltaic cells, ground source heat pump, desiccant air-handling unit and natural ventilations by Solar Stack Effect.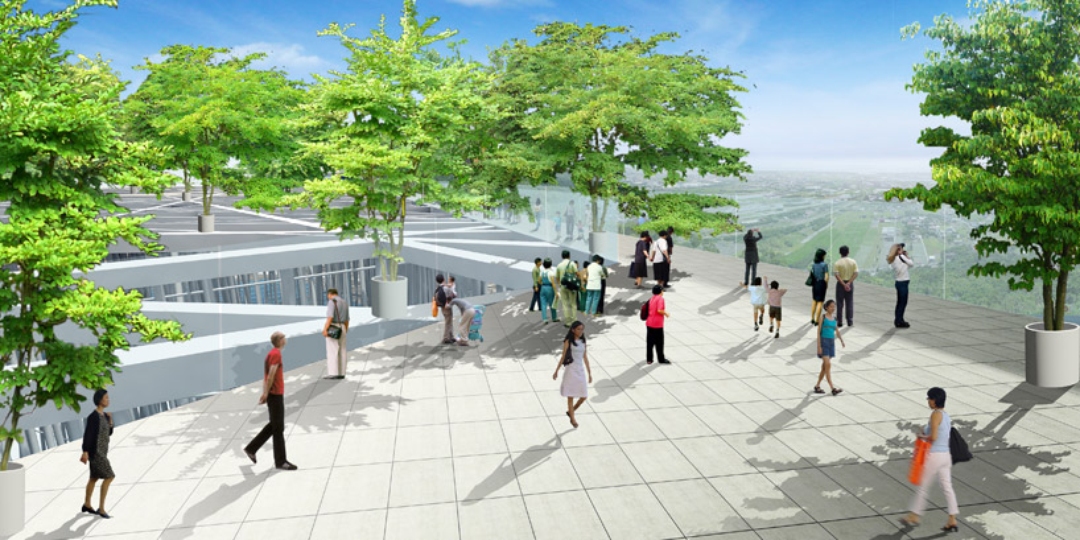 Fujimoto's tower would pass in and out of view against the daytime sky and the glare from the sun, while at night a series of programmed lighting effects will light the structure and allow it to "disappear" into darkness of the night sky. If this soon-to-be LEED Gold project — with a $220 million price tag — is approved, it should be completed by sometime in 2017.